food safety
Upgrade your production quality control routines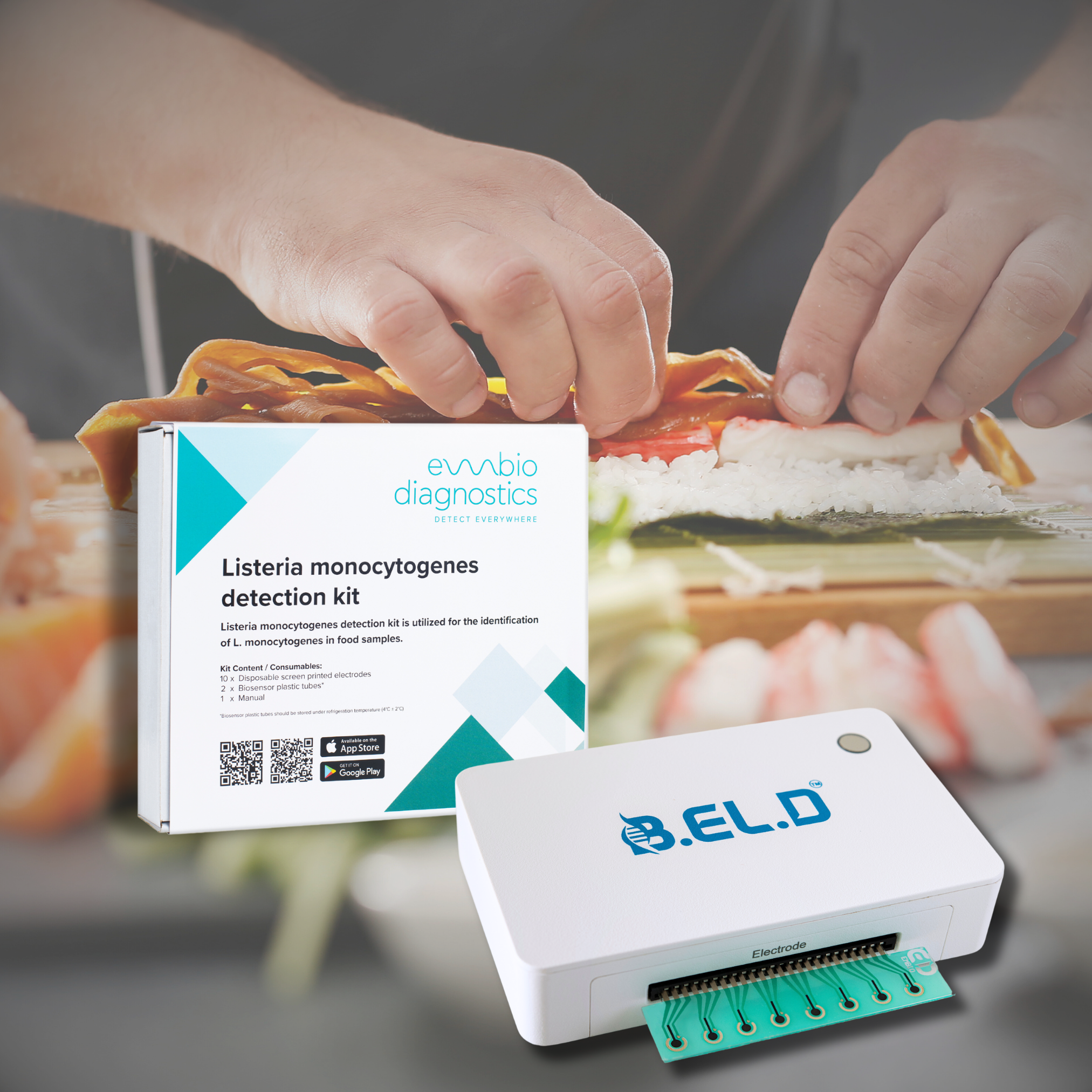 Get results in just 3 minutes direct to your mobile phone
Thanks to the incubation method advanced by our scientific team, B.EL.D™  lets you conclude Listeria test in reduced incubational time  – 24h instead of 48h.
B.EL.D™ is a portable bioelectric recognition assay type sensor based on mammalian cells that was developed for the rapid detection of Listeria monocytogenes in milk, cheese products, and leafy vegetables. Furthermore using the B.EL.D™ approach, our scientific team has developed Salmonella detection method in processed meat.
This diagnostic procedure consists of a highly specialized biotechnological method which subsequently provides highly accurate and precise data with high statistical confidence values.
At the limit of detection 2 log CFU mL−1 or g−1 the biosensor B.EL.D™ provides 100% accuracy, sensitivity, specificity, PPV and NPV.
high sensitivity and specificity
TVC on surfaces
B.EL.D™ is used for detecting heterotrophic organisms, particularly bacteria, within environmental samples taken from various surfaces. Our device is designed to provide accurate and efficient detection, helping you ensure the safety and hygiene of the surroundings.
With B.EL.D™, you can streamline your detection process and save valuable time. The device is engineered to deliver rapid and efficient results, allowing for prompt response and necessary measures to be taken.
The B.EL.D™ App and Dashboard enable you to effortlessly collect and organize data. With a user-friendly interface, you can easily capture and store data , ensuring accurate and up-to-date information at your fingertips.
Our technology
Our diagnostic device B.EL.D™, is the core technological device on which our main product line is based on.
Its competitive advantages include: accuracy, portability, digital and faster results.